This car is called the Aztec and was a '57 chevy, which George built in the 1950s. It was found in total disarray and George restored it, but does not own it. It's not for sale either, but if it were would bring around $500,000.
Barris also built a corvette for Marilyn Monroe that is in a car museum in Las Vegas, which Hogie, Geb and Harry toured in 1999.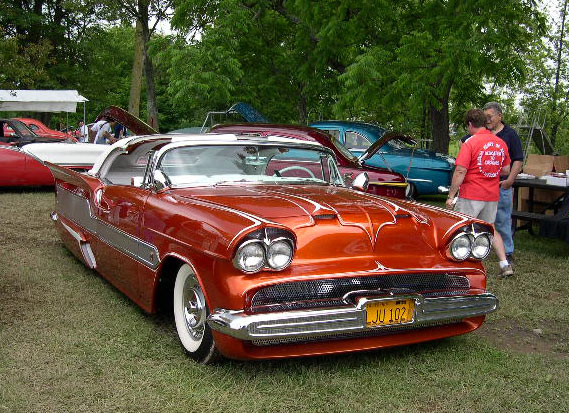 The Aztec from the back.

The Welcome KKOA Kemp'ers banner refers to Kustom Kemps of America, a membership organization that produces kustom shows. Kemp is a slang word used by teenagers in the late 50's and early 60's to indicate a car or truck. When you say Kustom Kemp, it means kustomized car or truck. So a kustom kemp can be any make, model or year vehicle, from 1903 to current year. The word "kemp" gained national recog-nition on a famous TV show called 77 Sunset Strip, where Ed "Kookie" Byrnes used it often, and in the little 25-cent Rod and Custom magazines."