Although it's not known for sure, this is most likely at Lake Swartswood, where Bogie's parents had a rental or vacation house, plus he's also in the photo. However, it could be Lake Hopatkong, where the Crew also went a lot. Lake Swartswood was almost all the way to the Delaware Water Gap. Scroll down to see its location on a map (roughly 40 miles away).

In this group photo, that could possibly be Harry Heinkele behind Varmit, who lived two or three houses down from Wintz, and joined in on many a garage beer-robbing night.

For outsiders viewing this, from left to right: Varmit (who looks like he's saying "f..."), Harry Heinkele, Lance, Hogie, Jacko, Helene, Bogie, Howie, Rob. Sitting down are Tier and Bag. Photo by the other Harry. Though not in this picture, Bummer was also there (see photo below dogs-in-water shot).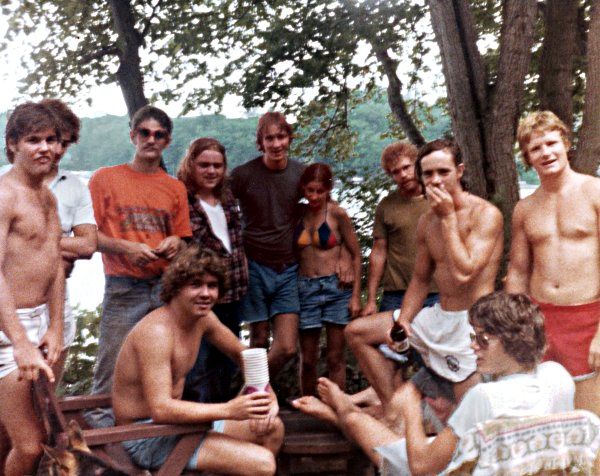 Tier holds a stack of cups for the beer that's nearby.