If you've got nowhere else to go,
you can always go to the Hotel.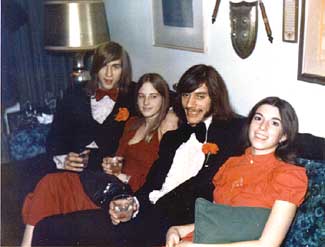 Prom night for Jacko (whose date is Mary Lou
Schaeffer) and Dave (whose date is Paula Gross).

This is probably 1974, Mary Lou and Paula's class.
See a pop-up photo of Paula here at her
40th highschool reunion.
Danny and Matt discuss the finer points of
Lumbo vs. Mexican, while Feather chows
down on some Pete's delivered pizza. (Photo
taken mid to late 1974).

XXXX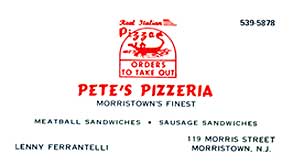 xxXXthe most important card in Dan-
XXxxny's wallet (just kidding, Danny)

Go back downstairs
or
out to the High Chamber

We probably never saw "Gone with the Wind." But we saw "Car Wash" many, many, yes, many times.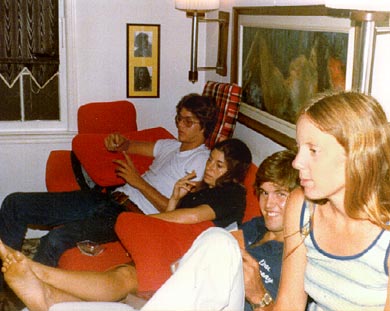 Many hours were spent watching "stoned" TV
Above: Bag, Paula, Matt and Sarah (Cut's Texas girlfriend)
This is from summer 1977. And we're watching Car Wash