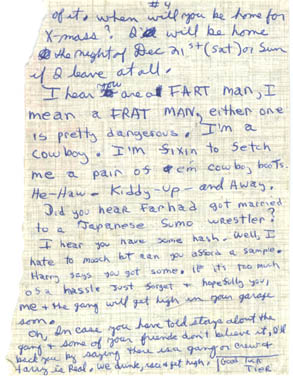 &nbsp # 4
of it. When will you be home for X-mas? I will be home the night of Dec. 21st (Sat) or Sun if I leave at all.
I hear you are a FART man, I mean a FRAT man, either one is pretty dangerous. I'm a cowboy. I'm fixin to fetch me a pair of 'em cowboy boots. He-haw. Kiddy-up-and away.
Did you hear Farhad got married to a Japanese sumo wrestler? I hear you have some hash. Well, I hate to mooch but can you afford a sample. Harry says you got some. If it's too much of a hassle just forget & hopefully you, me & the gang will get high in your garage soon.
Oh, in case you have told stories about the gang & some of your friends don't believe it, I'll back you up by saying there is a gang or crew & Harry is real. We drink, race & get high. Good luck, Tier.