Wiz
Mickey
Brett
Howie
Bummer
Matt
Harry
Bag
Hogie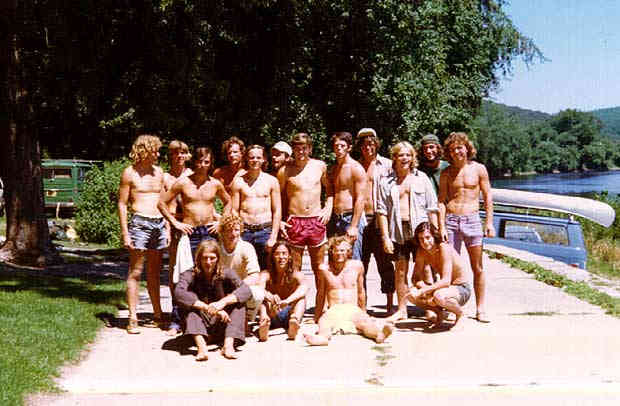 Dave
Tier
Jack
Rob
Desi
Feather
Paul
Clete
Lance (not
in picture cuz
he's taking it)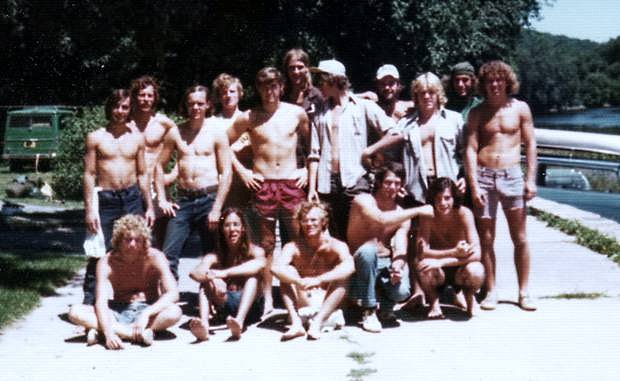 Notice how Bag is looking at Jacko, who is grinning. That's because just as Lance took the picture,
Jack punched him (timing his punch, in fact, with the click of the camera). Group shot was taken at
either Bushkill or Smithfield Beach (probably at Smithfield Beach - see the Summary Map Page).
Maybe Mick took this picture instead of Lance, as he's not in it, or else Mick just wandered away.

Unknown when in 1974 this was taken at Dirty Jim's, aka the Knotty Pine, on Whippany Road,
possibly just a short while before T and Bummer left on their trip to Texas. Pictured tonight:
Howie, Nancy, Lynn Ryan (known as 'Mel'), Jacko, and Clete (Paul Denz), who is talking to his
girlfriend Peggy on the phone. Dave and Bag are behind Tier. Pablo remembers that beer used
to sell at $1.85 per six-pack with no tax. For a partial list of all the bars we went to, click here.

Pablo, Hogie, Peggy, Rob, Harry, Geb, Clete, Howie, Carter, Tier, Prof (Rick Slavin), Kim, Lynn.
The date of Tier and Bummer's Texas farewell party at Schneider's was Sunday, Sept. 15, 1974.

The actual day they left was Monday, Sept. 16, 1974. After spending a year of college at Washington Univ. in St. Louis, Tier's original plan was to go solo "out West" and visit Feather at Villanova, Debbie Terzian (Bag's old girlfriend) at a girl's college also in Pennsylvania, Bag at Vanderbilt in Nashville, and Terry and Lance at Washington University in St. Louis. Once Bummer decided to go, they added Cut at Texas Tech in Lubbock. Read comments from Tier, Bummer, and Brother Dave.

See more from this day.


Tier and Bummer load up their possessions in Big Blue and move to Texas.
Harry, Howie, Clete, Mickey, Bummer, Tier, Rob, Jack and Dave were there.

Who can forget the Cromwell vs. Butterworth football games? In this photo are
Peggy Humphrey (fixing her bra), Kim Boetcher, Lynn Ryan, Vince Borelli, Beth
Belote, Bob Roast (combing his hair), Tommy Denman (#50), Jaime (#21), Stan
Borelli, Carter, Paul Denz, Pepé Freeman, and others. See more from this game.

This was a Fall 1974 party at McNair's. Pictured here are Steve McNair, his 2 sisters Martha and Andrea,
Harry, Dave, Jack, and Farm Boys Brent and Larry (last two on right). Bob Roast was also at this party.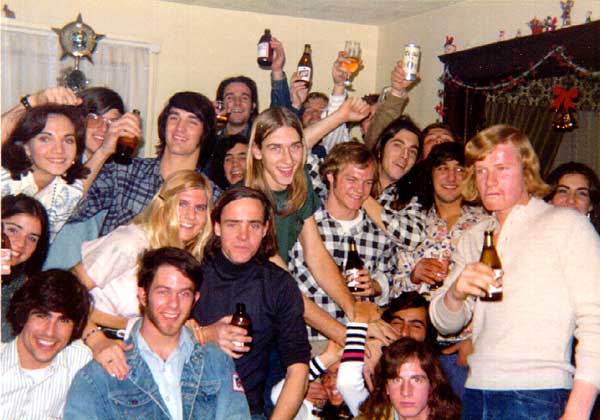 December 31, 1974: a New Year's Eve party at Roberta Truppi's house in Morris Plains. In this photo are Tony Pross, Harry, Howie and Nancy, Clete (Paul Denz), Bobby Freeman or Pépé, Feather, Terry, Bag with his then girlfriend Debbie Terzian, Bill Trapani, Bummer, Joe Borrelli, Bogie (Doug Wakefield), Varmit (Matt helped push Roast's car, his father's green Buick, to Berda's party when it conked out in the snow not far from her house), Tier (having come home from Lubbock holds high a can of Coors which he now drinks in Texas), Vince Borrelli (who looks like he's checking out Lynn Ryan to his left), and Bob Roast (who looks like he's saying "mrrgh" or mumbling about something, maybe because there's no beer left except for Schlitz. See more from this party.
See Crew group photos
- from 1975 -