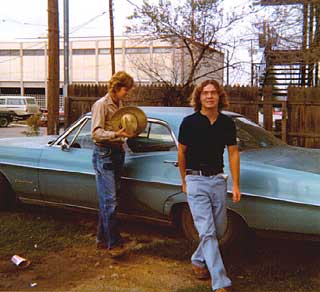 Cut, T and

BIG BLUE


Cut went to Texas Tech, too, as did T (but only later
after the van trip when he gave college another try)
Cut's office in Texas, early Feb. '76
Run mouse cursor over picture to see state of
affairs come last day of classes, May 3rd, 1976.
In the other photo here (when you cursor over it), T says this is probably 2 weekends worth of drinking, as they used to accumulate their empties so they could get a discount on the next case. At that time, Lubbock was dry and you could not buy beer in town, but would have to journey outside the city limits. Photos are by Cut's then girlfriend Sara Hamett.