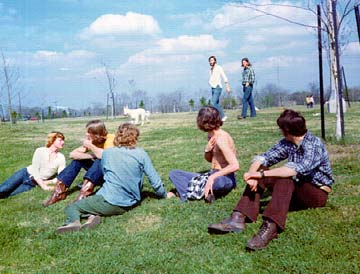 On the bank of the Mississippi, catching some rays.
(Unknown why we're looking at those two guys, unless it's
Tier and someone else. Can't really tell from photograph).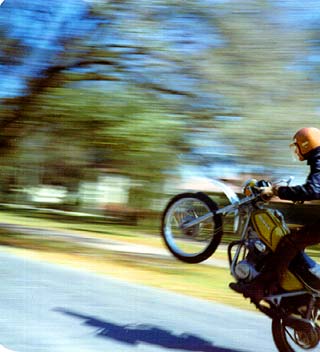 On Harry's bike, Bill Trapani wheelies on by.
(See what Pani is doing these days in South Florida)
Wheelbarrow races and chicken fights in Audobon Park
Mardi Gras was the first stop for Jack and Harry in their four-month cross-country van trip, which had started with leaving Cromwell. Then it was on to Vanderbilt University in Nashville to pick up Bag as well as Bob Roast and Bil Trapani (from Butterworth) who had flown down. Then it was on to the Mardi Gras, after which it was back to Nashville to drop off Bag, Roaster and Pani. Then they drove to Florida to see Kim Schophoester and Sarah/Patty Reilly, then to Springhill College in Mobile, Alabama to see Joe Borelli, after which it was on to Lubbock to see Tier and Cut, which was when Tier joined them on their van trip. As side notes, Kim Schophoester had moved to Florida after marrying Jack McDonald whose father owned McDonald Pontiac in Morristown, Patty Reilly got killed in a bicycle accident at the University of Florida, and Joe Borelli literally drank himself to death when they found his alcohol-poisoned body in his one-bedroom apartment somewhere in Pennslyvania.