Sage Banyan, crack mechanic,
joins Harry and Jack on their
illustrious van trip a couple of
weeks after Mardi Gras '75.

... and the cross-country trip thereof.
or
Read a group letter to Gonky written during the time there.



Listen to "Black Water" by the Doobie Brothers, Tier's favorite song

(in stereo)

.



Read about the gas siphoning, Coke truck-robbing, drive-shaft stealing trip from Lubbock to St. Louis.



Hear/Watch another apropos song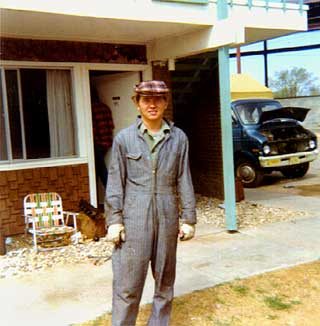 T looks like he's come from the Great Depression
(date of these photos: around mid-March 1975)
This is Tier and Cut's apartment in Lubbock, TX. That's Jack heading in. Notice the valve cover to his left sitting on something next to the folding chair. Now a fine dust blows through the Lubbock air. But not knowing this, Jack put the valve covers back in, and after driving to St. Louis to visit Terry, Lance and Julian Steinberg at Washington University, then heading west to Boulder to see Bogie at the University of Colorado, the engine block froze up in Boonville, Missouri due to all that dust. Tier, Jacko and Harry stayed at the Atlasta Hotel for a couple days until the engine was rebuilt (which wasn't cheap). Cissy also came with us (Tier and Cut's local girlfriend from Lubbock, but mostly Cut's). After reaching Kansas City, Cut headed south back to Lubbock, and we dropped off Cissy in Manhattan, KS, where who knows what became of her. You can see a picture of her with Tier on the next page, down at the bottom of the page where it says "Check out the slide show." She's in the 3rd picture. But first, be sure to read about the trip from Lubbock to St. Louis by clicking on the #3 link to the left, where you can see another picture of Cissy with Cut at Wash U.

Note: There really is a town called called Boonville in Missouri, where there really is a hotel called Atlasta Hotel. Get it: At Last A Hotel.