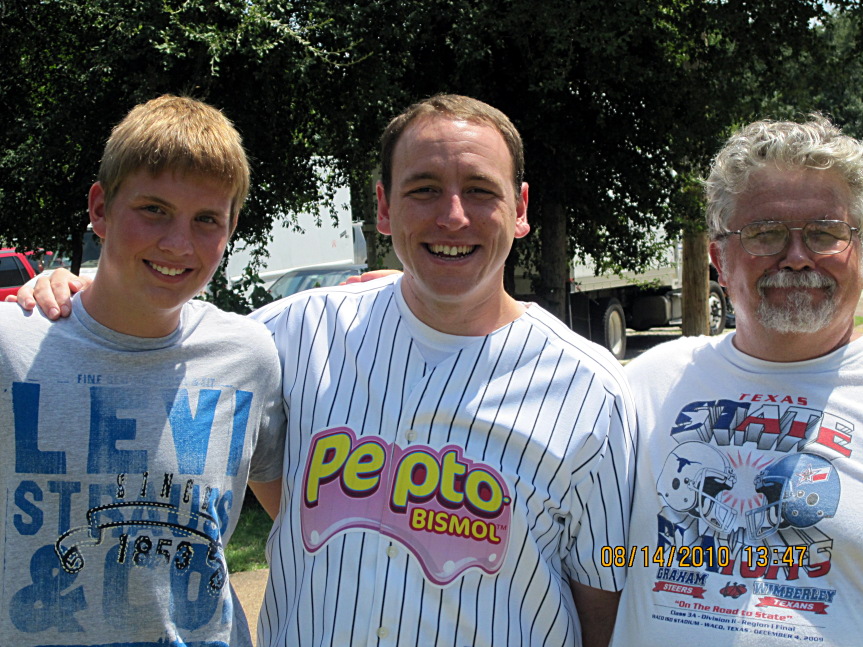 This is Tier on Saturday, August 14, 2010 at the Austin, TX Ice Cream Festival with his son Zach, and in the middle Joey "Jaws" Chestnut,
so named because he holds the world's record for competitive eating, a title he's held since 2005. On July 4, 2007 at Nathan's Hot Dog
Eating Contest in Coney Island, he ate 66 hot dogs and buns in 12 minutes; in 2008 he ate 59 hot dogs and buns in 10 minutes; in 2009,
68 hot dogs and buns; in 2010, 54 dogs and buns. Here, in Austin, he won the Ice Cream Eating Contest by slugging away 1.25 gallons
in 5 minutes. You can read more about his exploits on Wikipedia. Apparently, he's never heard of Proverbs 23:20-21 "Be not among wine-
bibbers; among riotous eaters of flesh: For the drunkard and the glutton shall come to poverty..."
This is Tier at Terry's March 2011 doing
some fishing. Unknown what kind of fish
T caught and they presumably had for
dinner that night.

To see more of Tier and his sons at
Yankee Stadium and the Jersey shore,
click here.

To see Tier at Terry's 2011 reunion,
click here