Jack's '67 corvette
(pretty nice, huh?)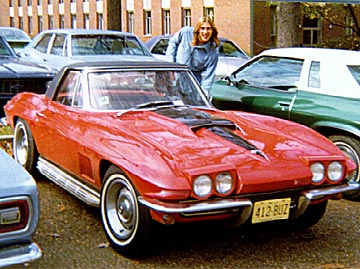 Jack picks up Bag at Vanderbilt University in Nash-
ville (who is studying for finals), and then...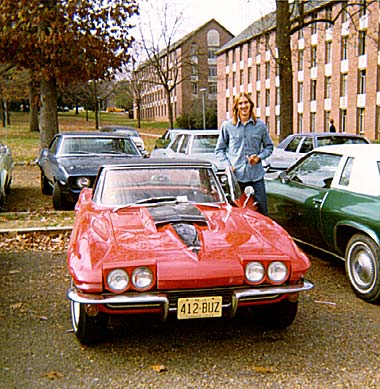 This is Jack's '67 vette that he bought from Howie
(Jack's vette had the flux capacitor)
Jack goes back to see Tier, after just ending the cross-country van trip with him and Harry five months prior.

Bag: "That trip to Texas that Jack and I took was the first great road trip I ever took, and it came totally out of left field. I was totally unprepared for it. I was a freshman. All of a sudden, one day, Kramer shows up in this cherry red corvette, and he says, 'Hey, get in! We're going out to see Tier.'"

Tier: "Of course, Jack and Bag's visit was… I think we were anticipating Jack coming, but we had no idea that Jack would be able to stop in Nashville and talk to Bag. Next thing we knew, here they were knocking on our doorstep surprising us that Thanksgiving morning."

(Jacko, Jake, Tree, Kracko)
Back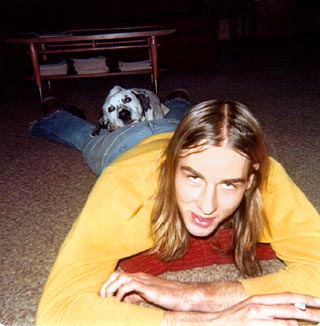 In the Schneider's downstairs rec room, where Beau finds a nice soft cushion. This is around Thanksgiving '74. Two months later, Jack and Harry leave on their cross-country van trip (detailed on the next page). Five months after that ended (June '75) is when Jack went back to see Tier with Bag.