At Nancy's pool
(Howie is on diving board next to Bag;
Debbie Terzian sits next to Nancy Ming)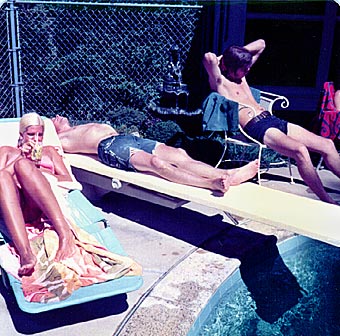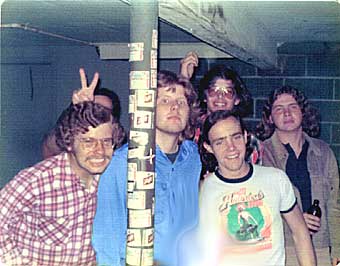 Late spring or early summer. Tier, Harry and Jacko
are home from their four-month Van Trip, which was
January - May. Tier hasn't yet left again for Texas
(not till September). Notice how the High Chamber
(and in particular the beer pole) is in early stage of
development. Photo blurred to hide Howie's gesture.
Right: Bummer and Harry dress up as mummies for
Halloween. But Bummer (left), who used more gauze
bandage than Harry, covered up his pants pocket. So
with no easy access to his wallet, he had to attach it
to the front of his costume. Pretty pathetic, huh?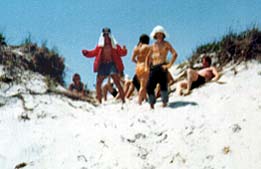 Cromwell & Butterworth at the beach
(that's Tier, Howie, Mike Feather & Nancy
Ming (?) in the yellow bikini. Run mouse
cursor over pic to see slight enlargement)
Continue the summer of '75 tour ...
a) beach photos
b) video clips
c) Harry's keg party
d) Cromwell Hills Chronicle