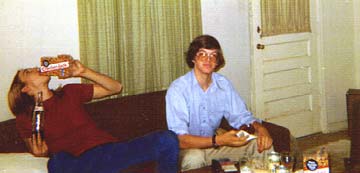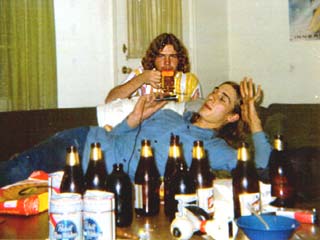 Jack is making a tape recording. Hasn't changed
trip clothes yet. Nor has Bag from related links.
On a spur of the moment decision, Jack drives from Morristown to Nashville, where he: (1) picks up Bag at Vanderbilt (who's studying for Finals), and they come to visit Tier and Cut for (2) Thanksgiving '75. (Here, Bag is rolling a joint, while Jack gives finger, photo-edited up to two fingers, as he holds beer bottle).
Hear Bag, Jack and Tier talk about the trip, or
if your operating system won't play the audio
files, you can read the comments right here.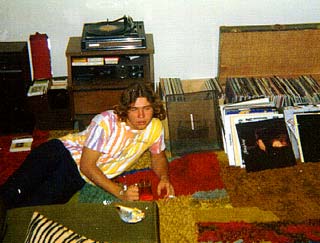 Looks like T is reflecting. Has cigarette between
fingers. Can't tell what the album is next to him.