To Morristown


And up Whippany Road
going the other way is: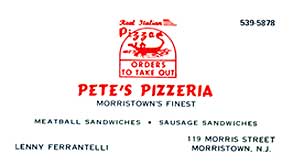 Looking for Danny Gross? He is probably at
Pete's. No, wait. That would be too much
trouble. They're probably delivering to him.
The drinking age in New Jersey was lowered from 21 to 18 in 1973, but the Crew was buying beer (if we didn't get it first from neighbor-hood garages) with altered driving permits that we got at 16, often at places such as Dirty Jim's and Zagursky's. Nowadays, though, il-legal Mexicans don't appear to be as smart. They don't know that when making a fake ID, just have yourself in the photo, no matter how much you may love the girl, as pictured below (photo supplied by Tier).