Who is
Clete
talking
to?
Probably
Peggy.
See her
now.
Or see
Clete
now.

See a
partial
list of
all the
bars we
went to.
Or click
here to
return to
the Tour
of Years
1974.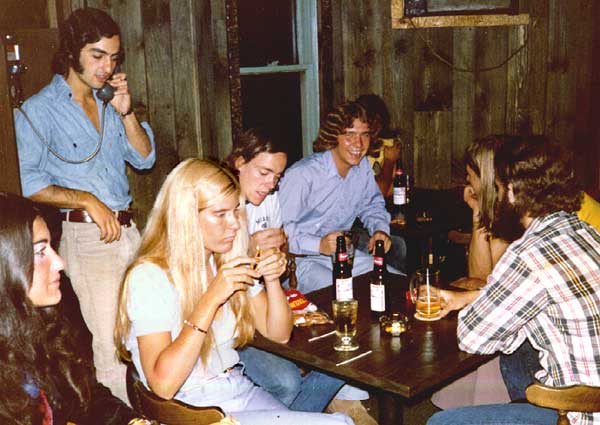 This photo taken possibly just a short while before T and Bummer left on their trip to Texas.
Pictured tonight: Howie, Nancy, Lynn Ryan (also known as 'Mel'), Jacko, and Clete (Paul Denz),
who is on the phone undoubtedly talking to Peg. And Mel must be wondering where Vince is.
Dave and Bag are behind Tier. Pablo remembers that beer used to sell for $1.85 per six-pack
with no tax. Bob Allatta says: It was probably one of my favorite watering holes of all times. I got a lot of good memories of that place. I drank too much, but I got a lot of good memories.