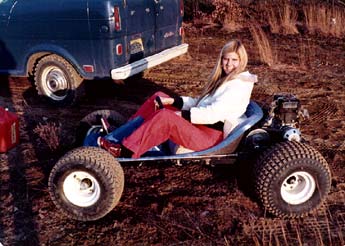 Probably the one and only time Nancy ever sat in Howie's dune buggy (but don't even think about driving it, Nance). Howie, meanwhile, did all the driving in Nancy's Z-28 Camaro.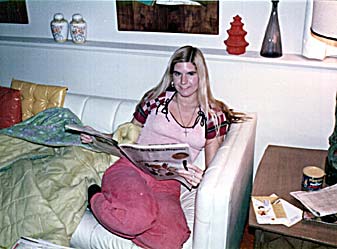 Nancy relaxing at her house, which coming from the
Columbia Rd./Normandy Pkwy intersection and going
toward Friendly's Restaurant was in the first neighbor-
hood on the left, where Linda Goldfinger also lived.
Nancy was a nurse at St. Barnabas Hospital in Living-
ston, a place Harry remembers all too well and where
he was sent upon getting diabetes. But the Crew came
and we had wheelchair races there, much to Nancy's
and Linda's chagrin and dismay.
Right: And after sunset, Peggy and Beth enjoy
a cocktail or two (or three or four) at the Library
on Horsehill Rd. in Cedar Knolls, as they booze
it up one weekend night. See a pop-up list of
the bars we went to.

Those are the hands of Paul Denz that Peggy is
(choose one): grasping, clasping, clutching,
desparately clinging onto.

And Now For Something Completely Different:
Read a ghost story about an 1833 Morristown
murder that happened at what later became
the Wedgewood Inn.