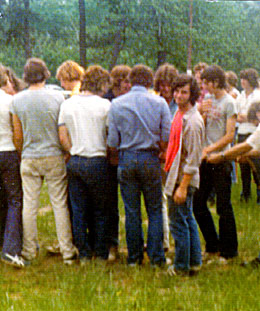 Here's Pablo down at the field, with Terry to the right of him. This may be the annual 4th of July picnic at the field, and the tug-of-war rope competition. If you look closely, you may see other Cromwell Crew people, like Roastie, Geb, Bag and Tier.
Click here to see photos of the Crew on a 1971 canoe trip.
Geb, Howie and Bummer in front of the Cromwell pool. Before cars, we rode around on bikes. And Howie had a classic: a one-handlebar Schwinn with no brakes (pictured here). Bummer's bike a unique oddity, too.

Read about Howie's bulldozer driving days.